I'm an experienced workshop facilitator and professional speaker.
As a Certified Practising Marketer, an accredited business trainer and book publisher, I deliver marketing training and workshops to small business owners as well as (aspiring) authors and writers.
I also speak at events regularly on a range of marketing and writing topics.
I have run successful workshops for the Queensland Writers Centre and several libraries in the Brisbane and Gold Coast areas.  I have also presented at GenreCon 2019).
See below for a full overview of my training capabilities and the writer and author courses I have delivered.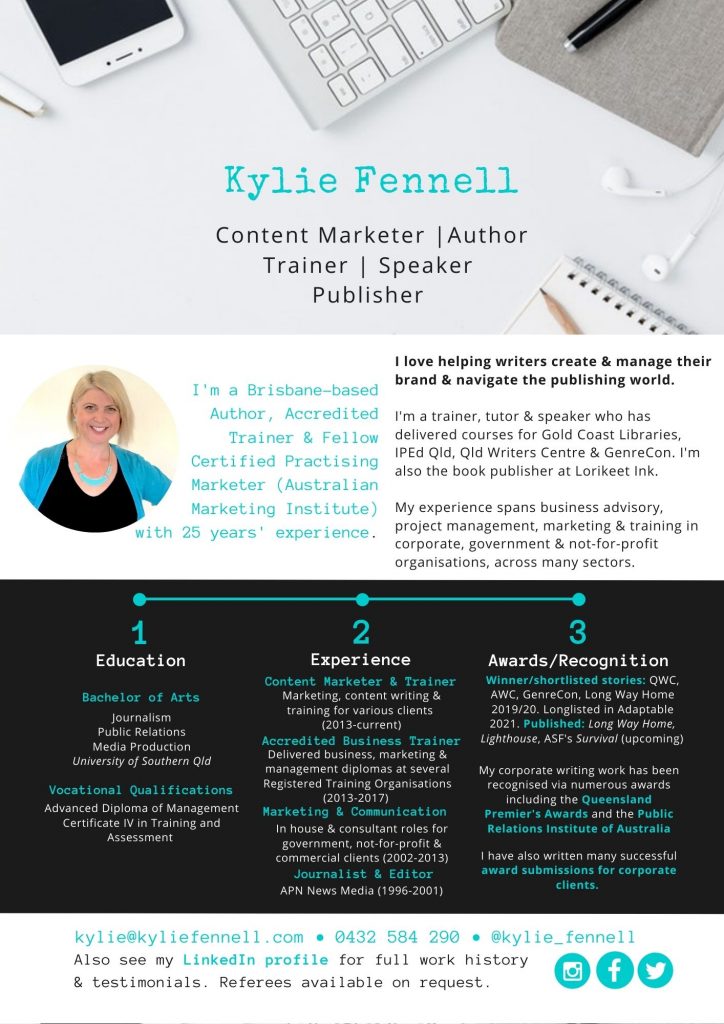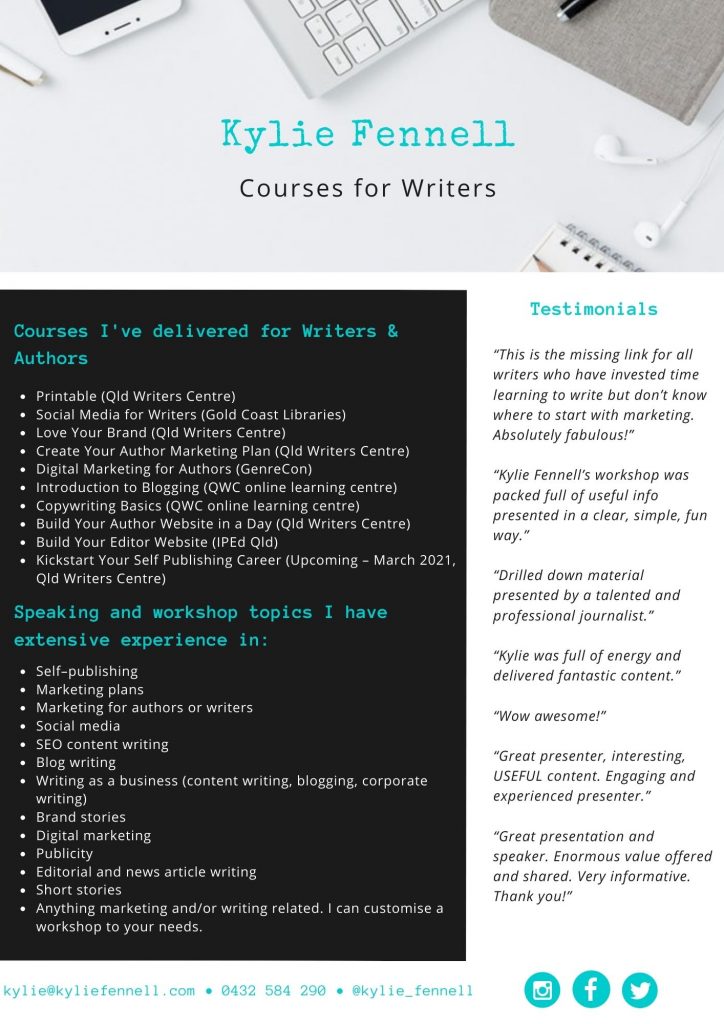 My Marketing !deas Workshops
I also run a series of marketing !deas workshops including:
!deas Small Business Marketing Introductory Event
I've been looking for you – Discover how to find more of your ideal customers and target them with customer persona profiles
What's your story? Develop a positioning and brand story that sells and creates ultimate brand fans
Just follow me – Learn how to master social media and develop your ultimate social media strategy
It's a brand new e-world – Develop your ultimate digital marketing strategy
Did you get my message? Develop a content marketing plan that rocks and find out how to write persuasive copy.
The ultimate plan – Develop your multi-channel small business marketing plan.
You find out more about the marketing !deas workshops here.
Feedback on my events
Here is some of the feedback from my recent How to Build Your Author Website in a Day workshop at the Qld Writers Centre and Social Media for Writers at Gold Coast Libraries.
"A great workshop if you are a writer and the thought of networking or social media marketing terrifies you. It may be the convincing you need to feel the feat and do it anyway."
"This is the missing link for all writers who have invested time learning to write but don't know where to start with marketing. Absolutely fabulous!"
"Kylie Fennell's workshop has given me clear steps to build my author platform without freaking out this introverted author! Her workshop was packed full of useful info presented in a clear, simple, fun way."
"Drilled down material presented by a talented and professional journalist."
"Kylie was full of energy and delivered fantastic content."
"Wow awesome!"
"Great presenter, interesting, USEFUL content. Engaging and experienced presenter."
"Great presentation and speaker. Enormous value offered and shared. Very informative. Thank you!"